Solar energy impact by orientation
The impact of solar energy varies according to orientation and climatic regions. The deviation of intensity is most remarkable reflected by meteorological data shown on the picture below. On the basis of this, if the pattern of energy distribution is known, the collector can be oriented towards the optimum direction thus providing the maximum energy impact on a given surface.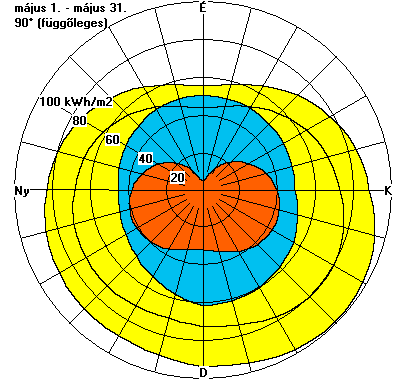 DISTRIBUTION OF SOLAR ENERGY IN THE SZEGED CLIMATIC REGION IN MAY WITH SURFACES BEING POSITIONED VERTICALLY
By means of the SunArch program one can state numerically the amount of solar energy radiation on a certain surface, positioned at any angle or facing any direction in a given climatic region. The program enables the user to determine the angle of the surface in order to obtain maximum or minimum radiation.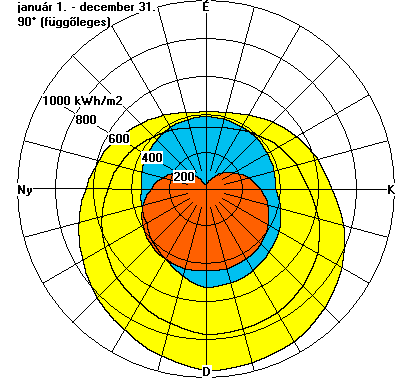 DISTRIBUTION OF SOLAR ENERGY DURING A PERIOD OF ONE YEAR IN THE SZEGED CLIMATIC REGION, SURFACE BEING POSITIONED VERTICALLY
Red colour marks direct solar radiation, blue diffused and yellow the distribution of complete radiation. The distribution of radiation differs noticeably from the previous distribution of solar radiation in May. The impact of solar radiation also depends on in which part of the year it is being recorded. This is why collectors can only be positioned effectively on the basis of recorded radiation data, this when they will yield maximum energy.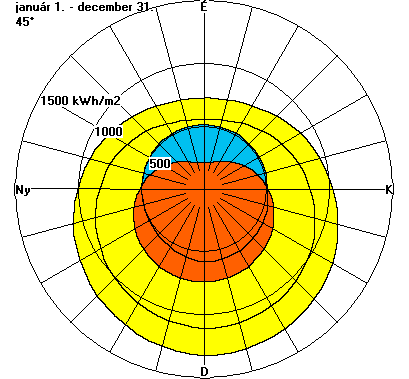 SOLAR ENERGY DISTRIBUTION OF FULL YEAR, BY CHANGING THE ANGLE OF COLLECTORS TO 45°
By changing the angle of collectors, the orientation of maximum solar impact will also change. With the use of the Sunarch program which has been worked out on the basis of several years of meteorological data, collectors can be positioned in the most efficient way.
Other abstracts:
---
Last modification: 28. May 2008.